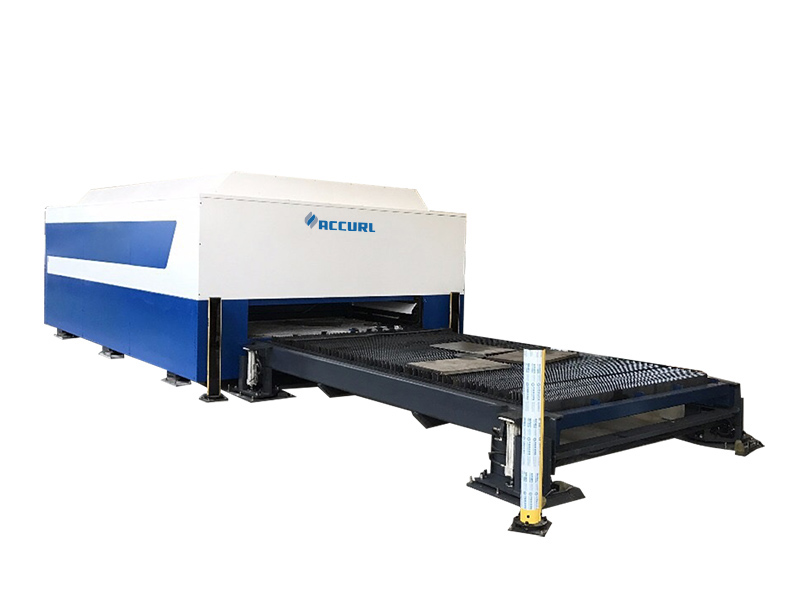 Rincian Cepat
---
Aplikasi: Pemotongan Laser
Kondisi: Baru
Jenis Laser: Serat Laser
Bahan yang Berlaku: Logam
Ketebalan pemotongan: 0-30mm
Area Pemotongan: 1500 * 3000mm
Kecepatan Pemotongan: 35m / mnt
CNC atau Tidak: Ya
Mode Pendinginan: Pendinginan Air
Control Software: Bodor Pro
Format Grafik Yang Didukung: AI, DXF, PLT
Sertifikasi: CE, ISO, SGS, FDA, BV, TUV
Layanan Purna Jual Disediakan: Insinyur tersedia untuk melayani mesin di luar negeri
Kekuatan laser: 500W / 1000W / 1500W / 2000W / 3000W / 4000W
Kata kunci: Pemotong Laser
Laser Source: IPG/MAX
Garansi: 3 tahun
Size: 9950*3050*2200mm
Weight: 11000Kg
Working area: 1500*3000mm
Lifetime: More than 20 Years
Cooling: Water cooling
Continuous working time: 24 hours
Deskripsi Produk
---
1. full protection cover
Environment friendly and Healthy Full closed protection improves using security; laser protection glass isolates laser radiation to human beings; automatic collection system of smokes and dusts is environment friendly; intelligent monitoring system reduces accident rate, making us enjoy beauty and health in cutting process.
2. two automatic exchange platforms system 
time-saving and effort-reducing
Rapid exchanging between two platforms greatly improve work efficiency. Rack and pinion transmission system has better rigidity and higher accuracy, saving feeding time, making operation more efficient.
3. Appearance design
Surrounded by baking paint silver decoration,coordinated with diamond cutting tempered glass and alpine white sheet metal design, the international design of the machine is accepted by global consumer groups. The workplace is neat, orderly and space-saving.
4. cast iron bed
Integrally formed, reject splicingUsing flake graphite cast iron, the lowest tensile strength of which is 200MPa. High carbon content, high compressive strength and high hardness. Strong shock absorption and wear resistance. Good casting and cutting performance. Excellent lubricity, corrosion resistance and dimensional stability. Low thermal sensitivity and bed gap sensitivity reduce the loss of equipment in using, so the machine accuracy could maintain for a long time, and no deformation in a life cycle.
5. Auto focus laser head
Free your hands, enjoy auto focus
(1) Auto focusApplicable to various focal lengths, which are controlled by machine tool control system. Focal point will be automatically adjusted in cutting process to achieve the best cutting effect of different thicknesses sheets metal.
(2) FreeFocal length is controlled by operating system. We don't need to do manual regulation, which effectively avoids errors or faults caused by manual operation.
(3) FastIt can automatically adjust the most appropriate focal points in working process, greatly improving cutting speed;When replacing different materials or different thicknesses sheet, manual focus laser head needs to adjust focal length manually, very inefficient; auto focus laser head can read system storage parameters automatically, very efficient;
(4) AccuracyIncreasing perforation focus length, separately setting perforation focal length and cutting focal length, enhance cutting accuracy.
(5) DurableBuilt-in double water-cooling structures can ensure constant temperature of collimating and focusing components, avoid lenses overheating and extend service life of lenses.Increasing collimation protective lens and focus protective lens, carefully protect key components.
6.Operating system display
Elegant appearance curveThe first one to use UI design in the world which lets display respond to processing table, making processing more intuitive. Elegant curves precisely fit machine body. Strong waterproof breathable system creates the best space, making operation more convenient. Diamond cutting process and HD plasma tempered glass make screen more exquisite and comfortable to use.
7.Cast aluminum crossbeam
Integral steel mold pressure casting, light, flexible and efficientAfter artificial aging, solution treatment and finishing, crossbeam owns good integrity, rigidity, surface quality, toughness and ductility. Aluminum alloy's metal characteristics of light weight and strong rigidity are helpful to high speed movement in processing, and high flexibility is beneficial to high-speed cutting of various graphics based on high accuracy. Light crossbeam can give equipment a high operation speed, improving processing efficiency to ensure processing quality.
8. Bodor Por 2.0
Independent R&D operating system, perfectly combines high efficiency and simplicity with inclusivenessThe operating system can realize intelligent layout of graphics cutting and support the import of multiple graphics, optimizing cutting orders automatically, searching edges smartly and automatic positioning. Control system adopts the best logic programming and software interaction, provides stunning operation experience, effectively enhancing the utilization of sheet metal and reducing waste. Simple and fast operation system, efficient and accurate cutting instructions, effectively improve the user experience.
9. functions
The heavy bed makes the equipment more stable in working, the light crossbeam makes it work faster; perfect industrial design is more in line with man-machine engineering; high quality electrical software control system gives equipment higher cutting precision. The machine owns more comfortable operation, more stable performance, more durable quality, higher cutting efficiency and wider application scope.Auxiliary feeding mechanismIntelligent travel protectionAutomatic lubrication systemGlobal real-time feedbackA new generation of safety following moduleIntelligent alarm systemAuxiliary gas low pressure alarm function
| | |
| --- | --- |
| Ukuran kerja | 1500 * 3000mm |
| Kekuatan Laser | 1000/1500/2000/3000 / 4000w |
| Ukuran mesin | 9950*3050*2200mm |
| Berat | 11000Kg |
| Kecepatan bergerak maks | 100 m / mnt |
| Kecepatan Pemotongan Maks | 35 m / mnt |
| Lebar Baris Min | 0.1mm |
| Kedalaman pemotongan | 0,2-6mm |
| Cara pendinginan | Pendingin air |
| Cara Mengemudi dan Transmisi | Impor Servo Motor |
| Waktu kerja terus menerus | 24 jam |
| Akurasi posisi | 0,03mm |
| Akurasi Posisi | 0,02mm |
Detail:
---
Kontrol nirkabel WIFI
Untuk menyediakan layanan cepat, kami menambahkan fungsi WIFI untuk teknisi kami mengoperasikan pemecahan masalah dan parameter ajustsd dari jarak jauh. Memeriksa parameter sumber laser terhadap kegagalan analisis menyebabkan Memeriksa parameter pemotongan untuk dianalisis dan menyesuaikan parameter baru
Bodor Genius laser head
Berlaku untuk berbagai focal length, yang dikendalikan oleh sistem kontrol alat mesin. Focal point akan secara otomatis disesuaikan dalam proses pemotongan untuk mencapai efek pemotongan terbaik dari berbagai ketebalan lembaran logam.
Motor Servo Yaskawa Jepang
Menggunakan perangkat lunak pengaturan SoMove: Perangkat lunak pengaturan SoMove dapat melakukan konfigurasi loop kontrol. optimalisasi, dan pemeliharaan, untuk drive servo Lexium Easy 26 dalam mode otomatis atau manual dengan fungsi osiloskop, sama seperti drive Schneider Electric lainnya. Dilengkapi dengan perangkat lunak SoMove untuk pengaturan yang mudah dan menyesuaikan papan sirkuit cetak Driver cetak dengan perlindungan lapisan, meningkatkan keandalan dalam lingkungan yang tercemar
Komponen Elektronik Perancis Schneider
Perlindungan sirkuit terhadap arus hubung singkat, perlindungan sirkuit terhadap arus kelebihan beban, Pemutusan dan pemutusan hubungan industri sesuai standar IEC / EN 60947-2.Tahan tegangan, Batasan kinerja tinggi, hingga penutupan cepat terlepas dari kecepatan aktuasi toggle.
Komponen pneumatik SMC Jepang
Kontrol stepless tekanan udara sebanding dengan sinyal listrik. Spesifikasi komunikasi serial. Kompak / ringan (bagian komunikasi terintegrasi).
Sumber Laser
Transmisi serat optik, tidak perlu menyesuaikan jalur laser. IPG, sumber serat Maxphotonics. Kisaran panjang gelombang: 1070 ~ 1090nm Kualitas balok TEM00 (M2 <1,8) Paksa udara / air pendingin Lebih dari 100000 jam kerja-kehidupan dipompa
Sistem Pelumasan Otomatis
Pelumasan listrik adalah sejenis pompa roda gigi dengan konstruksi rasional, kinerja hebat, fungsi lengkap. Dikendalikan oleh sistem mesin utama yang dapat memeriksa level cairan tangki oli, tekanan transportasi oli, dan mengatur periodisitas pelumasan. Efektif menghindari karat dan memastikan akurasi pemotongan.
Bahan aplikasi:
---
It is suitable for cutting carbon steel, stainless steel, aluminum, copper and alloy metal materials2.Application Industries: The equipment meets the parts processing requirements of most industries, working accuracy is stable. At present, laser cutting machines have been widely used in electronics, electrical, mechanical hardware, new energy lithium, packaging, solar, LED, automotive and other industries.
Layanan kami
---
Pre-sale-service
*According to customers demands, provide relevant technical guidance.
*Assist customers to design and make laser cuttng solutions considering technical feasibility.
*Provide equipment demonstration for customers to investigate, make samples and do test etc.
Layanan purna jual
*Bodor Laser provide 3 years warranty for all laser machines.
*Company can provide 24 hours service whenever customers have any questions or requests.
*Engineers are available to service customers oversers.
Packing and shipping
---
1)Packaging:Whole film packaging machine; anti-collision package edge; fumigation-free plywood wooden box and pallets with iron binding belt.
2)Shipping:We cooperate with SINOTRANS company whose experience in the ocean transportation will guarantee your machine safety. We also provide train transport, especially to Russia, Ukraine and other inland countries.
3)Payment:We support T/T, L/C, VISA, Mastercard payment terms with Alibaba Trade Assurance.
Faq
---
Q1: Saya tidak tahu apa-apa tentang mesin ini, jenis mesin apa yang harus saya pilih?
Very easy to choose. Just tell us what you want to do by using CNC laser machine, then let us give you perfect solutions and suggestions.
T2: Ketika saya mendapat mesin ini, tapi saya tidak tahu bagaimana menggunakannya. Apa yang harus saya lakukan?
Kami akan mengirim video dan manual bahasa Inggris dengan mesin. Jika Anda masih ragu, kami dapat berbicara melalui telepon atau skype dan email.
Q3: Jika beberapa masalah terjadi pada mesin ini selama masa garansi, apa yang harus saya lakukan?
Kami akan menyediakan suku cadang gratis selama masa garansi mesin jika mesin memiliki beberapa masalah. Sementara kami juga menyediakan kehidupan gratis lama layanan purna jual. Jadi keraguan, beri tahu kami, kami akan memberikan Anda solusi.
Q4: Before sending me an inquiry on our fiber laser, it is better for you to provide me the following information
1)What materials do you cut? Carbon steel? Stainless steel? Aluminum? Brass? Or others?
2)What thickness of the materials?
3)What size of the materials?
We will suggest you the most suitable model according to your working requirements.