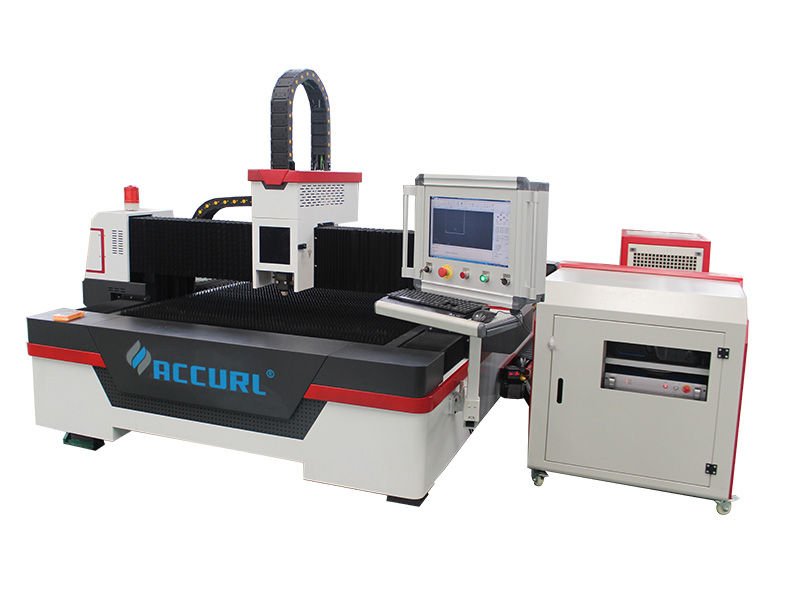 Tube Laser Cutting Machine P2060A Main Features
---
tube laser cutting machine P2060A adopts most sophisticated fiber laser N-light / IPG, combining self-design Gantry CNC machine and high strength welding body. After high temperature annealing and precision machining by large CNC milling machine, it has good rigidity and stability with imported high precision and high speed, linear guide drive,high-speed servo motor.Aluminum beam, advanced heat treatment process, high strength, light weight, good rigidity. It is mainly for cutting tube under 20mm metalin high speed and high precision. Fiber laser has a series of advantages, such as high beam quality, high brightness, high conversion rates, maintenance-free, stable and reliable operation of low cost and small size, etc. Air-assisted cutting is the most advanced level of laser cutting, which is particularly suitable for stainless steel,carbon steel,alloy,brass,copper, titanium and other metal materials precision cutting. It is widely used in metal products,bicycle, metal furniture,fitness equipment,sports equipment,farm machinery,display shelf,fire control.
Rincian Cepat
---
Aplikasi: Pemotongan Laser
Kondisi: Baru
Jenis Laser: Serat Laser
Applicable Material: Metal, stainless steel,carbon steel,mild steel,aluminum,copper,brass,iron
Cutting Thickness: 0-20mm metal
Area Pemotongan: panjang tabung 6m, 8m; diameter tabung 20-300mm
Cutting Speed: 72m/min
CNC atau Tidak: Ya
Mode Pendinginan: Pendinginan Air
Control Software: Cypcut / Germany PA HI8000
Format Grafik Yang Didukung: AI, BMP, DST, DWG, DXF, DXP, LAS, PLT
Model Number: P2060A laser cutting machine for metal pipe
Certification: CCC, CE, GS, ISO, SGS, UL
Layanan Purna Jual Disediakan: Insinyur tersedia untuk melayani mesin di luar negeri
Laser source: N-light / IPG
Laser power: 1000W /1200w/ 2000W / 3000W
Laser head: Raytools laser cutting head
Working table: fixed working table
Position accuracy: ±0.03mm
Repeat position accuracy: ±0.01mm
Maximum position speed: 70m/min
Acceleration: 1g
Electric power supply: AC380V 50/60Hz
Keyword: tube laser cutting machine
Parameter Teknis mesin
---
Pipe Automatic Bundle Loader features
1.Automatic bundle loader for option which saves labor and loading time, achieve mass production purpose
2.Round pipe, rectangular pipe and other pipes can be fully automated loading, without human intervention.
3.Other shapes pipe can be semi-automatic feeding artificially.
4.Max Loading Bundle 800*800mm
5.Max Loading Bundle Weight 2500kg
6.The tape support frame for easy removal
7.Bundles of tubes lifting automatically
8.Automatic separation and automatic alignment
9.Robotic arm stuffing and feeding accurately
Automatic collecting device:
1. dukungan mengangkat otomatis, menerima tabung dan memo ke dalam keranjang
2. Dukungan skala visual dapat menyesuaikan diameter dukungan dengan cepat sesuai dengan diameter pipa
3.visual skala disesuaikan dukungan mengangkat perangkat menghemat waktu makan, memastikan konsentrisitet, mencegah pipa berayun
Automatic collecting Device
Large stroke two together on the dynamic air chuck:
1.Chuck dengan mengubah jalur gas, linkage chuck empat-rahang yang biasa, optimasi Cheng stroke power chuck akting ganda.
2. Memotong diameter yang berbeda, bentuk pipa di kisaran perjalanan (stroke bilateral 80mm), tidak perlu menyesuaikan rahang pengaturan mudah dan terpusat.
3.easy switching of different diameters, a substantial saving setup time.
Lift adjustable support system:
The cutting of pipes of different diameters, by adjustable support system to quickly and accurately find concentricity pipe and claw, to achieve rapid feeding, care feeding purposes, saving setup time cut-out.You can assist chuck support, reducing the swing pipe.
Integration bed:
1. Sebagai tempat tidur seluruh pelat dilas, seluruh panjang 8 meter.
2. tempat tidur integrasi dapat lebih baik memastikan konsentrisitet peralatan, vertikal, instalasi presisi cepat dan efisien.
3.The whole structure is compact precision.
3D user interface:
1.Intuitive interface, better compatibility with Solidworks, Pro / e, UG software, convenient and easy to operate.
2.radical departure from the traditional CNC operating software code programming style complex method of operation.
3.Reduce the operator's requirements.
Online diagnostic function:
CypTube have received servo feedback function cutting head, laser and other components, is available online diagnose the failure point device.
Laser Cutting Machine Live-action In The Fire Control Industry
---
The Fiber Laser brings a cost effective, low-maintenance, low operating cost and environ-mentally friendly solutions to your organization. Our laser machines provide quality cutting and tolerances with minimal productivity loss between jobs, equating to a higher return on investment. Our fiber laser cutting machines are developed and sold based on these criteria below:
• Manufactured by people who use their own machines.
• The resonator comes with a 100,000 hour (more than 5 years) warranty from the manufacturer (N-light),which also supports cutting high reflective metal materials.
• Higher cutting speeds possible,and high effective cutting ability
• Dual interchangeable tables allow for faster loading and unloading,automatic feeding and collecting device reducing production time.
• Pengurangan dalam memotong variabel atau pengetahuan suku
• Fiber Laser sangat efisien, sama dengan konsumsi daya yang sangat rendah
• Low cost of operation, energy cost reduced, no laser gases requied to produce beam
• High cutting flexibility (Steel, Stainless Steel, Brass, Copper, Titanium, Aluminum,Carbon steel,Galvanized steel,Alloy steel)
• Laser beam transmitted through a fiber optic.cable rather than with mirrors and channel tubing resulting in negligible power loss.
Laser Cutting Machine Better Performance, More Rigid and Durable Construction
A. Komponen bermutu tinggi
B. Sirkuit terpadu (papan sirkuit profesional)
C. Alat mesin yang kaku dan pemuatan massal bekerja
Mesin Pemotong Laser Tinggi Efisien
A. Kecepatan bepergian meningkat maksimal
B. Pemotongan fungsi perangkat lunak ditingkatkan
C. Perangkat lunak sarang yang dioptimalkan memotong tambalan (dapat langsung membaca CAD)
Laser Cutting Machine More Safe and Save Labor
A. Struktur mesin dan desain dan perakitan sirkuit listrik sesuai dengan CE dan FDA
B. Sistem pemuatan asisten dan pegangan kendali jarak jauh nirkabel
C. Sistem pelumasan
Laser Cutting Machine More Optimized Technique
A. Kepala pemotongan laser yang berbeda dan nozzle yang dioptimalkan
B. Tiga sumber gas dan rute gas tekanan ganda
C. Dukungan perangkat lunak yang kuat
Mesin Pemotong Laser Presisi Tinggi
A. Sistem pengontrol loop tertutup sepenuhnya
B. Memotong kompensasi
C. Perangkat pengujian akurasi teratas
mesin laser cutting pipa