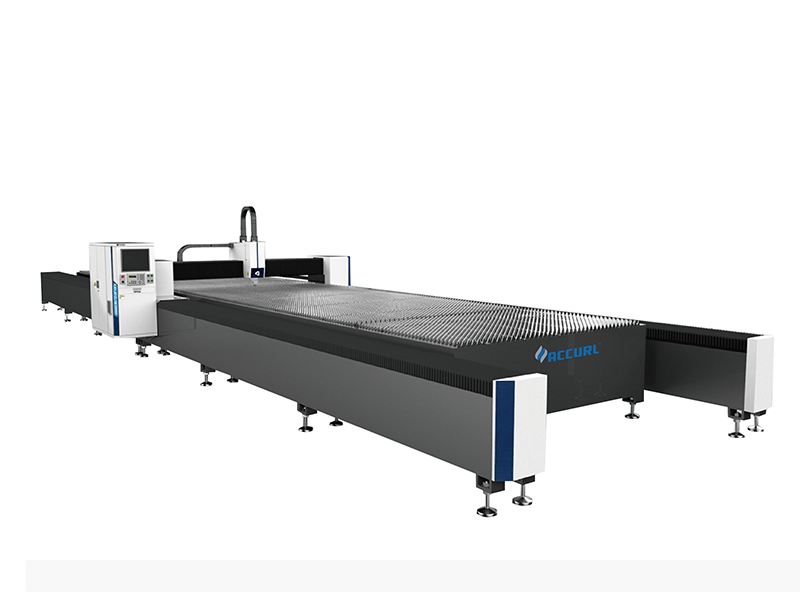 Deskripsi Produk Terperinci
---
| | | | |
| --- | --- | --- | --- |
| Laser Power: | IPG (Germany)/4KW Fiber Laser | Laser Source: | America / Russia IPG Fiber Laser Resonator |
| Servo Motor And Driver: | DELTA (Taiwan) | Ball Screw Rod: | HIWIN (Taiwan) |
| Liner Guide: | HIWIN (Taiwan) | Gear Rack: | YYC (Taiwan) |
| Kepala laser: | PRECITEC (Germany) | Pendingin: | TONG FEI (China) |
| Controller: | BECKHOFF (Germany) | Kata kunci: | 4kw Fiber Laser Cutting Machine |
4Kw Fiber Laser Cutting Machine with Working Table 2000x6000mm for Metal plate
ACCURL IPG 4KW Fiber Laser Cutting Machine outshine with its fast cutting and energy efficiency abilities when especially its compared to CO2 Easy use, maintenance and service has been achieved by the high technology of Fiber Lasers. Globally recognized efficient components used in ACCURL 4Kw Fiber Lasers add value to your company.
New Generation 4Kw Fiber Laser Technology:
1.Dengan fokus otomatis, lembaran tipis dan tebal dapat dipotong pada kualitas terbaik.
2.Single bagian tubuh dilas, mampu menangani akselerasi yang sangat tinggi.
3. Biaya operasional yang rendah dan konsumsi energi.
4.Hasil yang sangat baik untuk semua jenis bahan.
5.World diakui komponen berkualitas tinggi.
7. desain modern dan kompak.
8. Struktur efisien dan user-friendly.
Standard Equipments for 4Kw Fiber Laser Cutting Machine :
1. Germany BECKHOFF CNC Controller
2. IPG YLS-4000W Ytterbium Laser Resonator
3. Advanced PRECITEC cutting head (with air cross blast)
4. Automatic Double Pallet Changer(Shuttle Table)
5. Precision Rack & Pinion Drive System (Made in Germany)
6. Radan or Lantek CAD/CAM system
9. Light source
10. Chiller
11. 3 lower protective lenses
12. 3 Ceramic Nozzle Adapters
13. Auto-calibrated nozzle system
14. Smart Slag Collection System/ Chip Conveyor
15. Fiber Beam Transmission System (Fiber Cable)
16. Operates with both N2 and O2 (cutting) gases
17. Home Position Alignment System
18. Auxiliary Gas Selector
19. Auto Reflection Warning
20. Working Lights
21. 5 Nozzles each of the Following: (1.0mm, 1.2mm,1.5mm, 2.0mm , 2.5mm , 3.0mm)
Optional Equipments for 4Kw Fiber Laser Cutting Machine:
1. Automatic beam centering system.
2. Linear motor technology
3. Laser Safety Barrier
4. Precitec cutting head
5. Automatic sheet metal loading and unloading system.
6. Compressor
7. 1KW – 2KW – 3KW – 4KW – 5KW – 6KW – 8KW Laser power options available.
---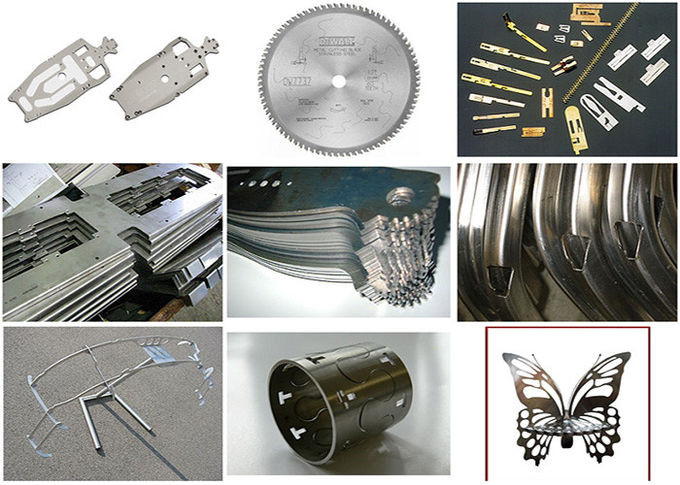 ---
Kekuatan laser
4KW IPG Fiber Laser Cutting Machine
Sumber laser
Germany IPG fiber laser resonator
Processing surface (L × W)
3000mm x 1500mm
CNC control
BECKHOFF (Germany)
Kepala laser
Switzerland Raytools
Sumber Daya listrik
AC380V±5% 50/60Hz (3 phase)
Total daya listrik
34KW
Position accuracy X, Y and Z axle
+0.02mm
Repeat position accuracy X, Y and Z axle
+0.01mm
Maximum position speed of X and Y axle
150m/min
Percepatan
2.5G
Beban maksimum meja kerja
1500kg
Drawing programming mode
AI, DWG, PLT, DXF format import directly
Berat mesin
11500Kgs
*** Note: As products are constantly updated, please hubungi kami for latest specifications.**
---
| | |
| --- | --- |
| Bahan | Cutting Thickness Limit |
| Baja karbon | 25mm |
| Besi tahan karat | 12mm |
| Aluminium | 10mm |
| Brass | 6mm |
| Tembaga | 6mm |
---
| | |
| --- | --- |
| Article Name | Ucapan |
| Fiber laser resonator | IPG (Germany)/4KW |
| Servo motor and driver | DELTA (Taiwan) |
| Ball screw rod | HIWIN (Taiwan) |
| Liner guide | HIWIN (Taiwan) |
| Gear rack | YYC (Taiwan) |
| Kepala laser | PRECITEC (Germany) |
| Chiller | TONG FEI (China) |
| Pengendali | BECKHOFF (Germany) |
| Gas Proportional valve | SMC (Japan) |
| Reduction gear box | APEX (Taiwan) |
mesin laser cutting cnc terbaik
,
Biaya mesin laser cutting cnc
,
mesin pemotong laser kompak